Richard Sandor Awarded the French Legion of Honor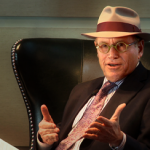 [July 11, 2013] Dr. Richard Sandor, renowned financial innovator and entrepreneur, was named Chevalier dans l´ordre de la Légion d´Honneur (Knight in the French National Order of the Legion of Honor). The award is the highest decoration granted by the French government, and acknowledges his accomplishments in the field of environmental finance and carbon trading as well as his personal commitment and contribution to the promotion of French-American friendship. This award was conferred upon Dr. Sandor by decree of the President of France. A ceremony will be held in October at the University of Chicago.
"I am deeply honored and humbled to accept this award from the French Republic," Dr. Sandor said. "My interest in France goes back to my early childhood, inspiring what would become a life-long interest in the country and its culture. I had the privilege of later working in France in environmental finance. To be recognized for the impact these innovations had on French-American relations is truly an honor."
Consul General of France in Chicago Graham Paul said, "We are proud to count Dr. Sandor as a Friend of France and as a new member of the Order of the Legion of Honor. The Legion of Honor, France's highest distinction and one of the most prized in the world, recognizes the many achievements of Dr. Sandor, a financial innovator, economist, teacher, art collector and philanthropist, whose lifelong work has greatly contributed to make the world a better place."
"Richard Sandor has been an important leader in Chicago, a friend to the University of Chicago, and a contributor to the distinctive intellectual tradition that joins the study of law and economics," said Robert J. Zimmer, President of the University of Chicago. "We are proud to have him teaching at our Law School, proud to have his name on the Coase-Sandor Institute for Law and Economics, and especially happy for this significant recognition of his accomplishments."
Michael H. Schill, Dean of the University of Chicago Law School and Harry N. Wyatt Professor of Law said, "I am so proud that Richard Sandor has been awarded this very prestigious honor. Richard is an important member of our Law School community and all of my colleagues on the faculty join me in offering him a hearty congratulations. The fact that Richard was honored by France reflects Richard's extraordinary achievements that stretch throughout the world. Richard's innovations on water and carbon markets places him at the center of global economic innovation today."
Dr. Sandor is a Lecturer in Law at the University of Chicago Law School where he teaches a course on "The Law and Economics of Natural Resource Markets".
In bestowing the award upon him, the French government focused on Dr. Sandor's pioneer work in the design and implementation of innovative and flexible market-based mechanisms to address environmental problems, particularly to mitigate climate and environmental risks and to generate added value from a sustainable use of ecosystems.
Dr. Richard Sandor is chairman and chief executive officer of Environmental Financial Products LLC, which specializes in inventing, designing, and developing new financial markets. EFP was established in 1998 and was the predecessor company and incubator to the Chicago Climate Exchange (CCX), the European Climate Exchange (ECX) and the Chicago Climate Futures Exchange (CCFE).
Dr. Sandor was honored by the City of Chicago for his contribution to the creation of financial futures and his universal recognition as the "father of financial futures." In October 2007, he was honored as one of TIME Magazine's "Heroes of the Environment" for his work as the "Father of Carbon Trading." In October 2012 he was presented with the World Federation of Exchanges Award for Excellence. He is also the author of "Good Derivatives: A Story of Financial and Environmental Innovation," The book is in its second printing and will be published in Chinese by People's Oriental Press this summer. He is also the lead author of "Environment: A New Asset Class", to be published in the 2013 by the Research Foundation of the CFA Institute.
Dr. Sandor is also a visiting fellow with the Smith School of Enterprise and the Environment at the University of Oxford, and a distinguished professor of environmental finance at Guanghua School of Management at Peking University as well as a member of Guanghua's International Advisory Council. He is also a Senior Fellow at the Milken Institute. Sandor is currently a director of American Electric Power, as well as a board member for Clean Energy Trust. He also serves as an advisory board member for the Smithsonian Tropical Research Institute and the Center for Financial Stability.
Sandor received his Bachelor of Arts degree from the City University of New York, Brooklyn College, and earned his Ph.D. in economics from the University of Minnesota in 1967. In 2004, Dr. Sandor was the recipient of an honorary degree of Doctor of Science, honoris causa, by the Swiss Federal Institute of Technology (ETH) of Zurich, Switzerland forhis pioneering work in the design and implementation of innovative and flexible market-based mechanisms to address environmental concerns. He is involved in numerous civic and charitable activities. He is a member of the Board of Governors of the School of the Art Institute of Chicago and he and his wife Ellen are major benefactors of the Art Institute of Chicago.
Contact:
Rafael Marques, Environmental Financial Products
(312) 554-3384
rmarques@envifi.com